Cividale: the Cathedral
Home

Ways

Italian way

Fourth stage

Cividale

Photo 4
Castelmonte - Masarolis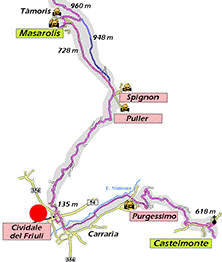 The inside of the Cathedral is a three-nave structure with an elevated presbytery. It is the result of several changes made by Giorgio Massari in the 18th century.

Don't miss the Monument to Patriarch Nicolò Donato (by Giovanni Antonio di Bernardino da Carona, dated 1513), the big wooden crucifix (dated 18th century) and the equestrian monument dedicated to Marcantonio of Manzano (by Girolamo Paleario, dated 1621).

The right nave features a small door through which you enter the Christian Museum. Here you will have the chance to see two real masterpieces of the Lombard period: the Ara di Ratchis (the duke Ratchis' altar) and the Callisto's Baptistry with its elegant octagonal, arched structure.

Municipal emblem
of Cividale
Castelmonte - Masarolis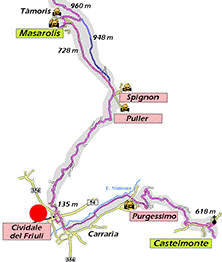 Municipal emblem
of Cividale