Lonzano: Zorutti farmhouse
Home

Ways

Italian way

Third stage

Lonzano

Photo 1
Cormons - Castelmonte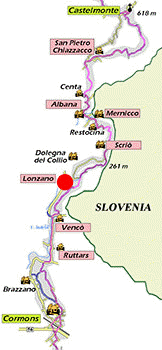 The Zorutti farmhouses. This is the birth place of Pietro Zorutti, the most famous Friulian poet.

" 27 dicembre del 1792 / qui aperse gli occhi alla luce del suo Friuli / del quale tutta sentì e ridisse la poesia ".

(On 27th December 1792 here was given birth the poet who felt and told the world the poetry of his native Friuli).

Municipal emblem
of Dolegna del Collio
Cormons - Castelmonte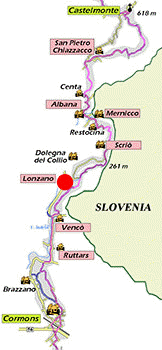 Municipal emblem
of Dolegna del Collio