Ruttars:
Home

Ways

Italian way

Third stage

Ruttars

Photo 2
Cormons - Castelmonte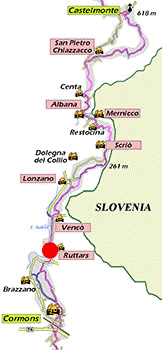 The Castle of Trussio is first mentioned in documents dated 1257. Gislardo di Fratta, lord of the castle, abandoned it because of the attacks by Mainardo, Count of Gorizia. In 1257 the castle was burned down but then rebuilt the same year. In 1279 the castle belonged already to the Spilimbergo family. In 1364 it was held under siege by Udine, during the invasion of Friuli by Rudolph IV, Duke of Austria.

The lords of Trussio belonged to the Spilimbergo family until 1869. Nowadays what remains of the ancient structure of the castle is just the two western towers and a massive wall. All the other buildings are far more recent. Neglected for many years, the castle was finally restored and it is now used for public events.

Municipal emblem
of Dolegna del Collio
Cormons - Castelmonte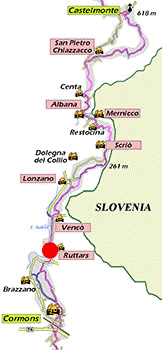 Municipal emblem
of Dolegna del Collio