Aquileia
Home

Ways

Italian way

First stage

Aquileia
Aquileia - Aiello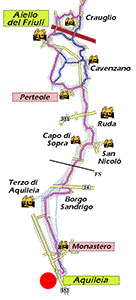 The town of Aquileia is 22 centuries old, therefore you can easily imagine all the historical events that took place here, not to mention the changes the town underwent! For centuries Aquileia was the most important political, administrative, religious, economic and artistic centre of all the territories and for all the populations comprised between the Adriatic Sea and the Alps.

Aquileia is therefore a must; visiting this centre will surely help you to understand the culture of a unique civilization. Here you will not only get in touch with the past cultural influences of the Celts and the ancient peoples of Veneto but you will also discover the crucial influence of the Romans and other populations (the Germans, the Slavs etc.).

The catalyst of so many differences was the Patriarchate of Aquileia. In the past it was a proper institution. Nowadays it is a "way of life" whose influences are easily found in many regions: from Styria to Lombardy, from Istria to Tyrol.

Municipal emblem
of Aquileia
Aquileia - Aiello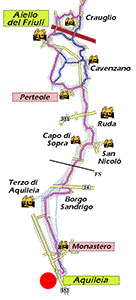 Municipal emblem
of Aquileia